This is my little hobby project that evolved from me starting to collect old postcards with motives from Trondheim. I'm not related to the people I'm researching here.

If you happen to sit on information that I'm missing or see factual errors I need to correct, please send me an e-mail


Kristiansten fortress in Trondheim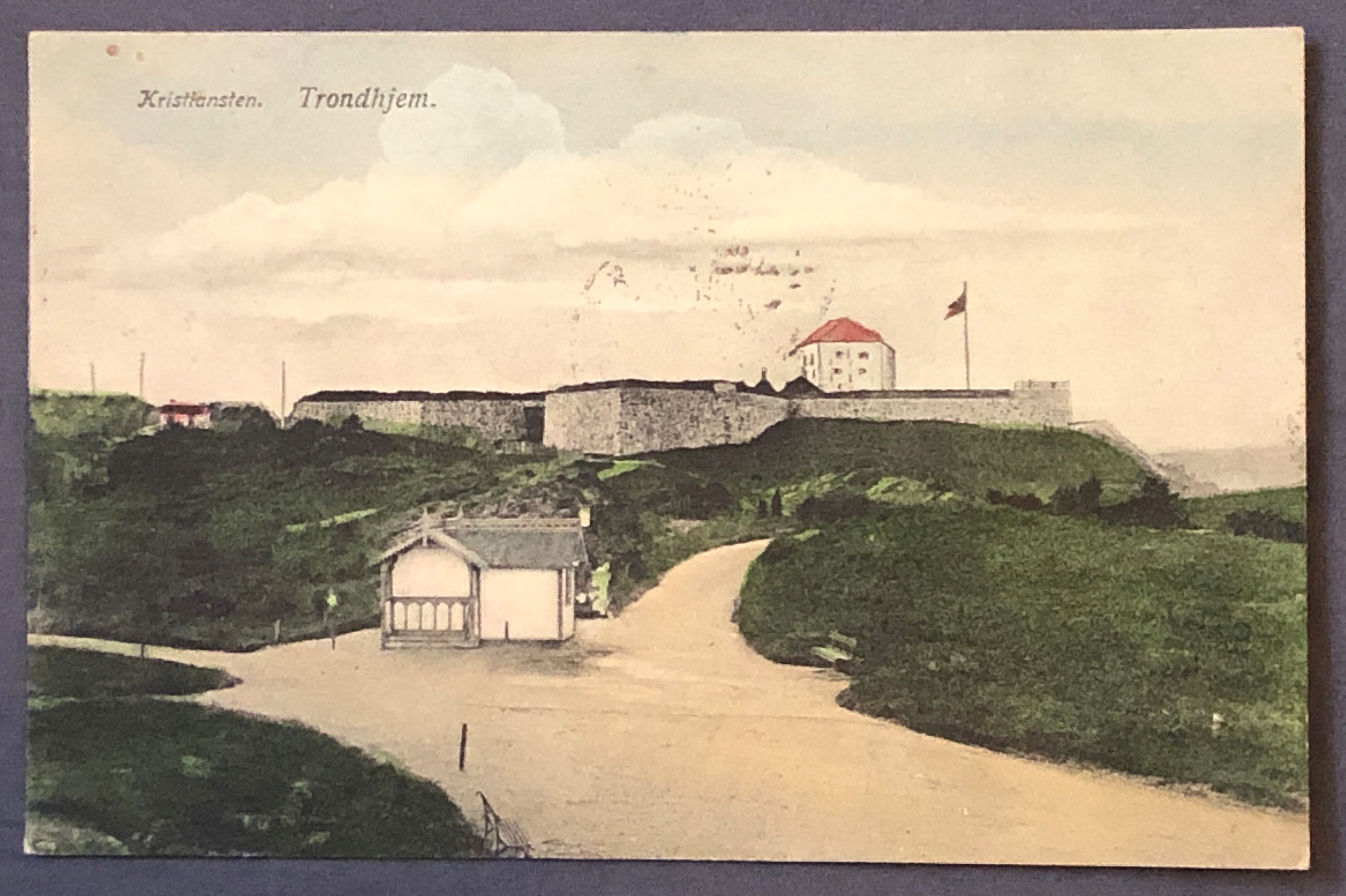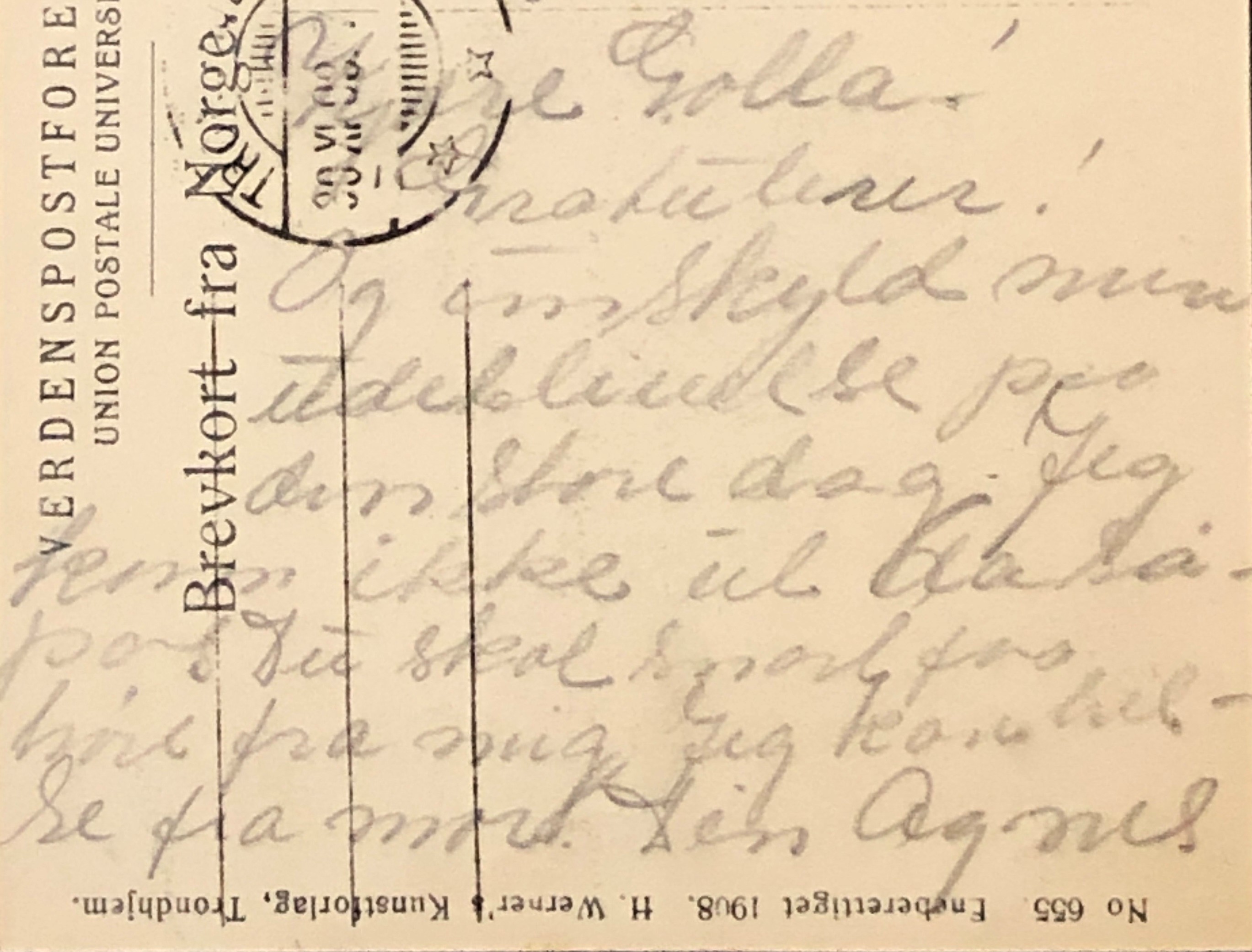 Is anyone able to read the sentence starting with "Jeg ... ikke..."? if so please send me an e-mail
Sandbakken Farm/Sanatorium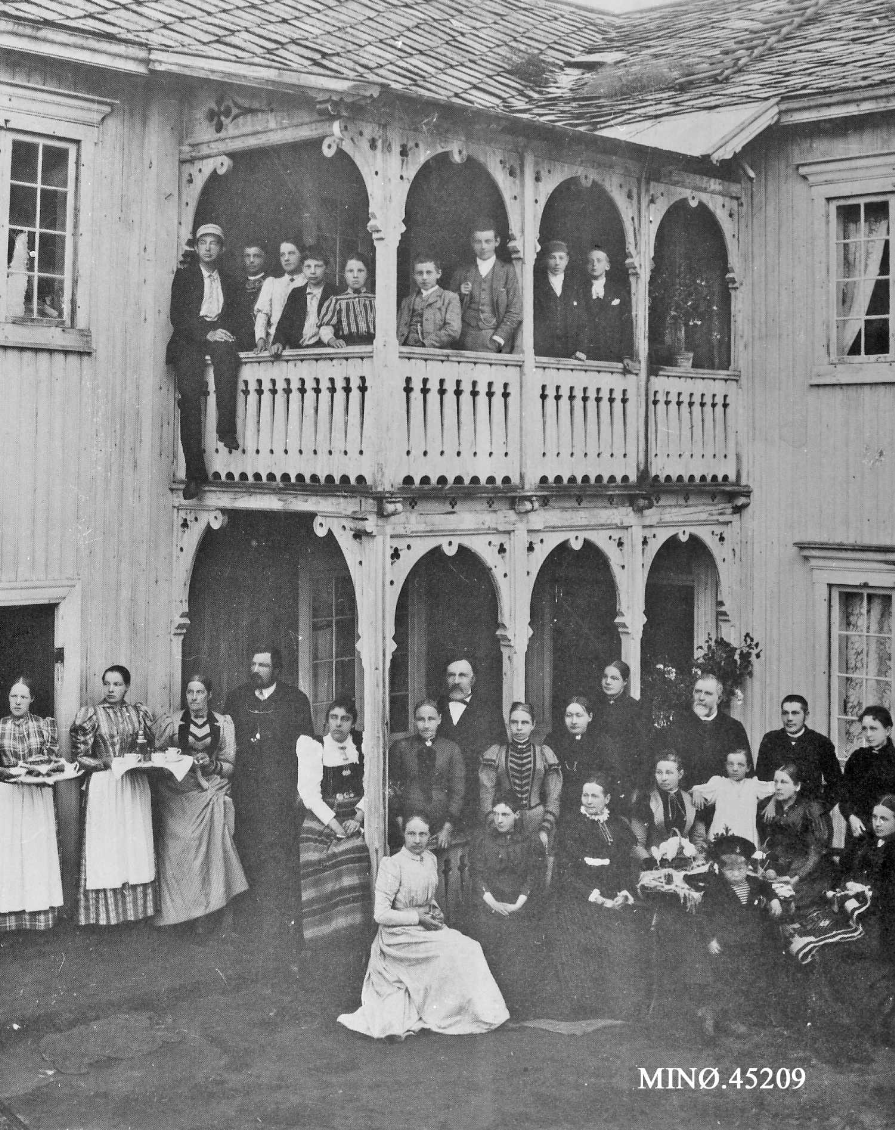 "Summerguests at Sandbakken Sanatorium 1896". From an old newspaper (click the photo to see it in a larger format at the Norwegian Digital Archives website)
361 Boston Street, Seattle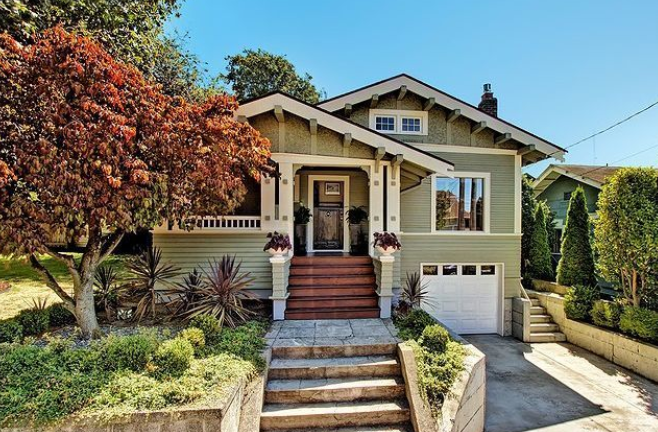 361 Boston Street, Seattle as depicted in 2013. The house was built in 1909, just a coupple years before the Reberg family moves in and where they lived until Golla Reberg dies in 1942, 2 years after her dear husband.



I want to thank Birger Moksnes at Stjørdals Historielag for corrections and guidance.
Frk G. Reberg
This postcard depicting Kristiansten Fortress in Trondheim is post stamped november 30th, 1908 and is addressed to a Miss G. Reberg at Sandbakken at Tönseth. In addition to the address and the main text of the post card, this is all I have when start my reasearch to find out who Miss G. Reberg was, where she comes from and where she ends up.

It's not easy to read the 100 year old hand writing on this post card (which turns out to be a delayed birthday card), but this is what I have manged to understand so far;




Dear Golla!
Congratulations!
And sorry for not participating
on your big day. I
... not .. so
.... You will soon hear from
me. I send my regards
from Mother. Your Agnes





I have attempted at the best of my abilities to find information about who this Miss G. Reberg was by looking and searching for her in different sources on the Internet.

Fortunately for me the post card starts with "Dear Golla!" so now we are looking for a Miss Golla Reberg and this makes it infinitely more easy to find people than by only having the initials. The name Golla is rather unfamilier today, but back then it was more common. After a quick search I found someone named Golla Arntsdatter Reberg from a consensus done by the norwegian government in 1891. (a consensus: registering everyone in the kingdom by sex, age, occupation, where they lived etc)

The name Golla is a variation of Gulla. In "Norsk personnamnleksikon" the following explenation is listed: Gulla f, form of Gudlaug (Gullaug). Gudlaug was used in Norway during the middel ages, both as a name for men and women, but was not of the most common of names.

Golla Arntsdatter Reberg (born november 28th 1874, Nedre Stjørdal d. 1942) - Trondheim Consensus from 1891: Norwegian Digital Archives and Danish genalogy website

At the 1891 Consensus Golla is 17 years old and listed as unmarried and working as the sole house maid at an addresse in Kongsgårdsgaden, most likely what is known as Weisenhuset, a large wooden and rather majestic building that is located across the road from the famous cathedral in Trondheim called Nidarosdomen (Kongsgårdsgate 1?). Weisenhuset still exists. Back then it was, among other uses, a school for the blind and there are reasons to belive that Golla was in headmaster Bernt Andreas Krog (born september 13th 1837) service as a house maid. Bernt Andreas Krog was married to Albertine Vilhelmine Krog (maiden name was Harsleben and she was born in Bodø in 1829).

Then I started looking at the address on the postcard; Sandbakken, Tönseth. I soon figured out that Tönseth is the old way they spelled the place which we know today as Tynset. And when I search for the next clue in the address; Sandbakken, I find that there is an old and well known farm called Sandbakken.

Sandbakken Gård / Sanatorium:
In 1908 as Golla turns 34 years old and is receiving her birthday card from Agnes (which I don't know who is) everything points to her working at Sandbakken farm also known as Sandbakken Sanatorium, a sort of vacation site for the more wealthy citicens from Trondheim. Sandbakken farm is already mention in old scriptures from 1660s, but have quite likely existed a long time before this. in 1908 Golla was possibly working as a maid at Sandbakken farm, and maybe she by now, with many years of experience, even was in charge of several house maids. She could however also just have been staying at Sandbakken Gård as a guest.

I found a norwegian news article about Sandbakken farm in a newspaper called Tynsetingen (only in norwegian)

Gollas family:
Gollas father: Arnt Olsen Reberg born february 21st, 1796 - dead april 8th, 1876
Golla is just about 1 year old when her father passes, but he is at a respectable 80 years old by that time and has been married 3 times with a total of 14 children.

Gollas mother: Anne Marta Reberg (born september 22nd, 1828 - maiden name; Jonsdatter Slungård (daughter of John Toresen Slungårdsbakken) (married Arnt Olsen Reberg march 12th, 1852 Stjørdal)

Together they have these children;

Anne Marta Arntsdatter Reberg - born june 4th, 1853
Oluf Arntsen Reberg - born march 29th, 1856
Johan Martin Arntsen Reberg - born september 23rd, 1861
Marit Arntsen Reberg - born april 15th, 1864
Gunnar Arntsen Reberg - born october 10th, 1866
Oline Arntsdatter Reberg - born march 8th, 1869
Andreas Arntsen Reberg - born february 18th, 1872
Gudlaug Arntsdatter Reberg - born november 28th, 1874 (Our Golla!)

By searching for the familyname "Reberg" in Stjørdalsboka : gards- og slektshistorie. B. 2 Del II : Stjørdal herad I get a good hit on page 372; Nedre Reberg "Gamle Reberg" (1875) is the farm run by Gollas father, Arnt Olsen Reberg and which houses his large and ever increasing family. The passage reads that Arnt Olsen Reberg; Was a Haugianer(norwegian farmers local religion). He has his friends often gathered for congregations and was a common place for preacehers to stay for shorter and longer peroids of time. Most known of these was teacher Evensen from Skogn Markabygd. He was well known in his time.

Another passage reads; By the 1865 Consensus they had 1 cow, 4 sheep, and 1/8 barrel of barley, 2 barrels of wheat, 5 barrels of potatoes. Following passage reads; By the 1875 Consensus they had 1 cow, 4 sheep, 1 pig, 1 and 1/4 barrel of barley, 1 barrel of wheat, 5 and 1/2 barrel of potatoes, 1/2 field of root vegetables. Golla was only 1 year old at the 1875 Consensus.

When searching in the local history publishing called Stjørdalsboka : gards- og slektshistorie. B. 2 Del I : Stjørdal herad I find that; "Gudlaug Arntsdtr. Reberg (gr.nr. 113), born 28/11 1874" The book also confirms that the man she marries is born just 14 days before Golla herself and is Johannes Johansen born 14/11 1874. It also reads; "Emigrated to America" Marieborg (Seljetrø) Br.nr. 49

Johannes Johansen
Johannes Johansen is a skilled sailor just as his father and several of his brothers. Johannes emigrates to America with the ship Anchoria from Glasgow february 10th in 1898 and in 1910, 12 years after, Golla joins him. It was not unusual for the men to emigrate on their own, find work and earn enough money for a ticket to bring over their wives or closest familymembers. And just a few years later they start a family in this new land with their daughter Alice Margaret Johansen being born in 1913.

As Golla marries she takes the name Golla Johansen and they live most their lives at 361 Boston Street (Seattle, King, Washington, USA) until she passes in 1942, 67 years old. Her daughter Alice was 28 years old at the time. Johannes passed away in 1934.

Questions that are still unanswered;

1. Who was Agnes? (En god venninne fra Trondheim eller hjembygda Stjørdalen kanskje?)

2. What role did Golla have at Sandbakken farm?

3. What happened to Gollas daughter; Alice Margaret Johansen (born 1913)?