Dette er et lite hobbyprosjekt som jeg har startet etter å ha begynt å samle på gamle postkort fra Trondheim. Jeg er ikke i slekt med personene som omtales her.

Dersom noen har informasjon jeg mangler eller kan korrigere eventuelle feil jeg har gjort i mine undersøkelser så kan man sende meg en e-post


A busy day at the market in Trondheim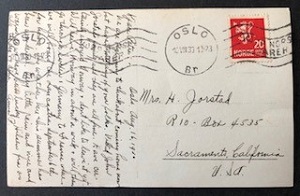 RMS Lancastria



Jørstad
Norwegian: habitational name from any of seven farmsteads named Jørstad, from the Old Norse personal names Jørundr (composed of elements meaning 'battle' + 'winner', 'victor') or Jórulfr ('wild boar (helmet)' + 'wolf') + staðr 'farm'.
Dictionary of American Family Names

Jørstad is the name from 2 farms near Jørstadsjø at Ytterøy, Levanger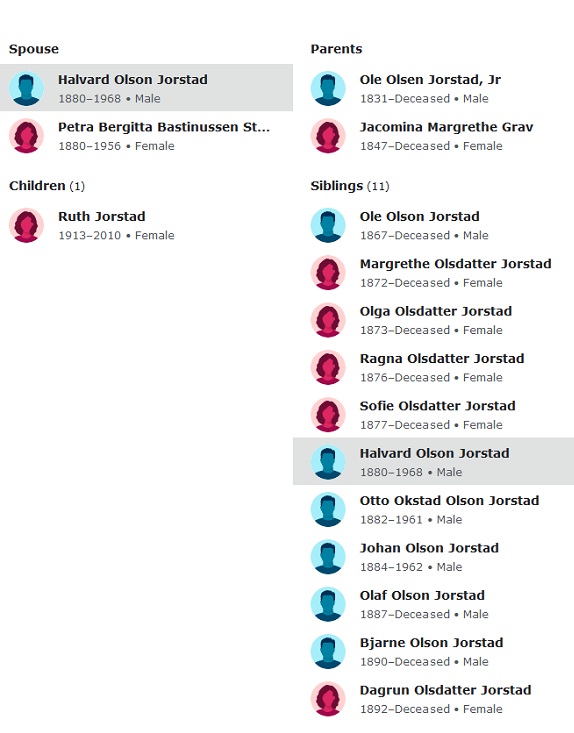 Anna P.
This postcard from 16th of august 1930, has a photo of Trondheim Torg (the town market) is written by Anna P. to a Petra sent to the p.o. box of a mrs H. Jorstad on an address in Sacramento, California. What made this postcard extra exciting to reasearch is the fact that I found a good deal of information about the ship they were scheduled to return back to America in. A ship that later would go into the history in a dramatic and tragic fashion.

The postcard reads;




Dear Petra.
We are beginning to think about coming home now but haven't met any of your folks. Visited John Jorstads family and they are all fine. Have certainly enjoyed Norway & don't like to leave it yet.
Will leave Norway in about a week & will then go through Sweden & Germany to France where we will board the Lancastria september 6th for home. The weather here this summer has been wonderful. Very little rain and nice and warm so we have been very lucky. Greetings from us all. Anna P.





From what I can understand out of the context of the text, they are norwegians emigrants on holiday their country of origin and checking up on family. From about 1825 to 1930 over 800.000 norwegians emigrated to America. Our postcard author Anna P. is telling her friends back home in Sacramento that they have been to Trondheim and visited John Jorstads family, then they are off to Sweden, Germany and then on to France where they are to board the ship RMS Lancastria at the 6th of september 1930, which will take them back to America. It was probably a privilege of the few to be able to travel back to Norway on holiday with the extravagant boats of the Cunard Line.

There are unfortunately no clues within the postcard of the relation between Anna P. and the Jorstad family.

Petra and Halvard Jorstad
My understanding is that when written formally on a letter or post card, as "mrs. H. Jorstad", it is indicative of the head of the family; Halvard Jorstad, because one customary introduces an american married couple at that time as for example mrs and mr John Smith. In a website called Ancestry there is a Halvard Olson Jorstad (born april 17th, 1880 dead June 19th, 1968) who is married to a Petra Jorstad with the maiden name of Petra Bergitta Bastinussen Stavrum (born 1880 dead 1956) and together they have a daughter; Ruth Jorstad (born 1913 dead 2010).

In a Consensus for Nord-Trøndelag from 1900 I find Halvard Jorstads family, but Halvard himself is not listed as by then he had just left for America. Maybe he is peering into the future horizon aboard the ship as his family are being registered at the annual consensus by the official from the norwegian government. Halvard had a total of 10 siblings and grew up on the farm Vestre Jørstad (farm nr 46) The farm has a total of 16 people attached to it, including the farm hands and maids. His parents are Ole Jørstad and Jokomina Jørstad.

It's very common that scandinavian family names which had their traditional vowels like æ, ø and å, got changed as they were registered at the immigration offices in America. So the Jørstad name is changed to Jorstad wheter they wanted to or not, and this is the name that carried over to the generations ahead.

They settle in Sacramento, California. From an american census from 1920 we can se that Halvard Jorstad (farmer) emigrated to america in 1900 and worked toward bringing Petra Jorstad over as soon as possible and this happened in 1911. The daughter Ruth is then born i California. In a 1940 Census Ruth is now 26 years old and works as a teacher in a public school. Halvard is still registered as a farmer as occupation and has land that he owns, so most likely he was running a small farm somewhere in Sacramento, California. Ruth marries Emil Schmauderer Sr. and takes the name Ruth Jorstad Schmauderer. Ruth dies in 2010 (Obituary).

John Jorstad
In the Norwegian Digital Archives I'm able to find a John Kristens.(Christiansen) Jørstad from Ytterøy born october 5th, 1892 and he emigrates to America in 1911. He leaves may 3rd from Liverpool, England and arrives in New York may 22nd. He is the son of Kristian Albert Johnsen Jørstad born june 24th, 1860 (from Jørstadsjø/Ytterøy) and Anna Margrethe Gunneriusdtr. Haugan born august 30th, 1866 (from Ekne). They run the farm Saltbodøren at Ytterøya. Together they have 9 children. (source: Jørstadslekta). From a search in The Statue of Liberty―Ellis Island Foundation I also find that John Jørstad has emigrated to Amerika with the ship Cedric 22 mai 1911. In the ships manifest John has submitted that he is to visit his brother Christian Jørstad at 1806 Jennings St, i Sioux City. local source 1 local source 2. John travels back to Norway to visit his family in november 1920 and returns to America mars 7th, 1921. By the norwegian emigrationprotocol he is listed as a carpenter by trade. He marries Nellie Skogland ca 1923 (born June 8th, 1898 and dies december 1974) and they have 2 children (still alive). I also find he was enlisted in the military 5th of june, 1917. John Christiansen Jorstad passes away in december 1969.

Anna P.
By a strike of fortune I manage to find the passenger manifest for Anna P. s journey with RMS Lancastria that sets to sea at september 6th, 1930 from Le Havre, France just as she predicted in the post card. There are however multiple candidates for who our Anna P. can be on that manifest; passenger #267 Mrs Pearse who travels with #266 Mr. A. S. Pearse and #268 Miss E. Pearse, passenger #270 Mrs. Peck who travels with #269 Comm. Peck, passenger #274 Mrs. Pereira who travels with #273 Capt. R. S. Pereira. My gut feeling tells me that it must be Mrs Pearse that is our Anna P. What do you think? is Anna P. really Anna Pearse? So far I can't really find out any information about the Pearse family. Not having any first names makes it extremely difficult or maybe I'm just not looking the right places.

RMS Lancastria
By the first tidings of the second world war RMS Lancastria (Wiki) is refitted and made into a troop carrier and soon participates in many important missions overseas. The ship plays an important role in the evacuation of allied troops in Narvik, Norway in april 1940 at the start of the Germans assault and capture of Norway. The ship gets attacked as it makes its escape and the germans try to hit it with several bombing runs but avoids getting hit. 10 years after Anna P. and her family travels by the RMS Lancastria, at june 17th, 1940 the ship takes part in the evacuation of allied troops in France and is sunk after being hit by german bombs outside the french coastal town of St. Nazaire. It is roughly estimated that as many as 6500 people lost their lives which makes it the largest loss of life in the whole of british maritime history.


The question that still remain unanswered;

1. Who is this priviliged Anna P. that can afford to travel back to her home country to check up on family and friends and that writes thìs post card to keep her american friends in the Jorstad family up to date?